Blog Archives
Ok, I know I'm a bit late to the party but now that the Dark Angels book has come out I want to talk a little bit about a couple things. First, the game is different. The rules changes from 7th to 8th edition were huge, but somehow I feel the game has changed more, and more for the better from 8th to 9th, even though the actual changes weren't that big. I still don't like some things (proliferation of invuln saves and mortal wounds being 1 and 1a) but the game focuses a LOT more on objective play and scenarios. You have to build an army that can do a LOT more than just kill things (while, you know, still killing things). Marines going to 2W is, well, about 7 editions overdue in my not so humble/biased opinion. Terminators hit 3W which is very spicy, even with significant 2D weapons out there, firstborn marines are back with a vengeance.
Xenos haven't had much to get excited about. Necrons got a pile of new stuff and they climbed the tier list, kept their flavor, and, I think, brought some new life to the lifeless robotic hordes. Aeldari are hoping for a similar pass, but they got a bit of a pass with Ynnari (which then got nerfed out of existence) and a handful of new models for Howling Banshees and Drazzhar. While Aeldari and Orks both BADLY need new models, I'm not holding my breath.
Ok, now to talk about the DA releases a couple weeks ago.
HOLY.
SHIT.
Dark Angels are R-E-L-E-V-A-N-T now. Like, hellooooooo meta. No more excuses for getting my head handed to me anymore. Automatic free Transhuman Physiology (never wounded on a roll of 1-3 no matter the weapon's S)
Basically the Deathwing and Ravenwing are both troops if you put them all together in a detachment, and you can take a Vanguard/Outrider detachment as a Battalion (i.e. no CP cost) if it has your warlord in it, which is just… YES! The only problem is doing 1 of each to give you a classic Black & White army leaves you with only 8 elite slots and YOU WANT TO FILL EVERY ONE OMG. I've been making lists for a game next week and just… EVERYTHANG is good. Plain old Deathwing? Knights? Bladeguard? Champion? Ancient? Ravenwing Apothecary that works in both detachments and is the BEST APOTHECARY IN THE GAME? Relic Terminators? Deathwing Command Squad? Probably the only stinker is the Deathwing Apothecary because he's so completely outclassed by the Ravenwing version. The Ravenwing rejoices in speed with so much elan it's probably going to make any White Scars die-hards just give up. ObSec, great weapon options, and really useful stratagem kit that lets them deliver a ton of firepower as well as their jink invuln save (5++ 4++ if they advanced) is just brutal Oh yeah and a top notch Psychic discipline that gives you buffs, debuffs, tactical fuckery and just seems SO good thematically.
The big downside is that you are going to be a small elite army. There's some real potential to be outnumbered by everything except Knights. Fortunately you can just pile in obsec units. Deathwing Terminators, Terminator squads, Close Combat Terminator squads, and Relic terminators can all be obsec, as can Bikes and Outrider bikes. Greenwing exists, but why? I mean I literally have an almost completely mechanized battle company and I just can't see it hitting the table without some serious nerfs to Deathwing and Ravenwing. But, there was a clear swing and a miss in the releases. The Patrol Box.
That…. That isn't a Dark Angels box. That's a bunch of random crap painted Dark Angels colors and thrown in a box. They didn't even bother to use the Plasma Inceptors, just the Assault Bolter version, with a combat squad of intercessors, a Dread, and a Chaplain. No thanks. You know what box WAS a Dark Angels box despite GW not marketing it as such?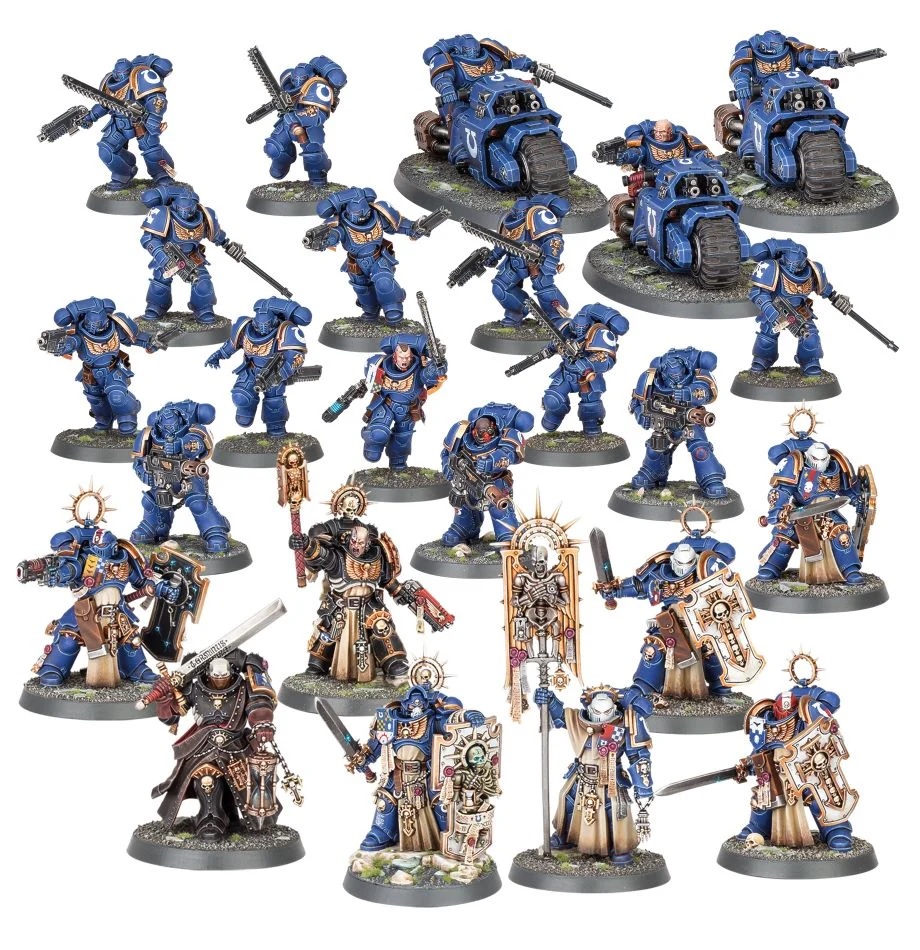 In 8th edition I complained (correctly) that Dark Angels were little more than slightly different Ultramarines painted Green. Clearly GW has someone specifically reading my blog who saw that and acted on my criticism to differentiate them better. Good job. Because now we have a whole box of Dark Angels painted Blue.
I'm not even kidding. The Captain, the Lieutenant, the Blade Guard, the Blade Guard Ancient, and the Chaplain all can be Deathwing. The Outriders are Ravenwing, the Judicar can SADLY be in neither, and will be relegated to Greenwing detachments despite being an awesome model with amazing rules. The eradicators are a rare bright spot in the Greenwing, being excellent with the DA special rules, and the assault intercessors are good for learning how to paint, I guess, because assault marines are just awful and assault marines without a jet pack are even worse so why even bother putting them together.